His home town of Edina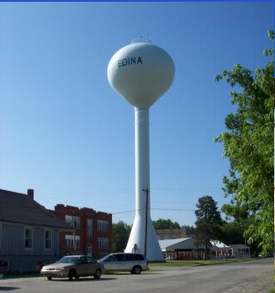 Red Yoder is a lifelong resident of Edina, Missouri—the county seat of Knox County (population 4,131) in rural northeast Missouri.  The 1,160 Edina residents have several local clinics and health care agencies, expanded resources in several nearby mid-size communities, and within 3 hours, large urban/university medical centers.   Local resources include one dentist, a satellite clinic affiliated with the regions' federally qualified heath center, and the Knox County Health Department which provides environmental and home health care services including a range of diagnostic, laboratory, and personal/medical care services for a fee.  These clinical facilities are staffed by physicians, nurse practitioners, and physician assistants who rotate coverage of clinic opening hours.  Red's family has typically sought care locally, with referral to Quincy for more complex issues.
Despite their small numbers and the stresses of the current rural economy, Edina residents are energetic and public spirited folks as demonstrated by their recent successful fundraising activities to support construction of a new community center.  Happily for Red, the community center houses the Knox County Community Fitness Center a 24-hour facility with a full line of new Precor™ strength and cardio equipment including: treadmills, ellipticals, recumbent bikes, as well as a poured rubber walking track. They provide a variety of classes on fitness and nutrition as well as individualized instruction to all new fitness center members to make sure they use the equipment in a safe and productive manner.
The community is also home to The Jim Sears Northeast Technical Center, completed in 2001 is a 10,000 square foot facility. It offers associate of arts degrees in several disciplines.