Health Informatics-USA
Health Information is human information.
AHIMA-certified professionals hold an intimate relationship with health information. While our patients don't often see us, we see our patients in a way no other healthcare professional does. This perspective is critical to the success of all modern health organizations. We see the person connected to the data, ensuring their information stays human – because when information stays human, it stays relevant.
What is Health Information?
Health information is the data related to a person's medical history, including symptoms, diagnoses, procedures, and outcomes. A health record includes information such as: a patient's history, lab results, X-rays, clinical information, demographic information, and notes.
A patient's health information can be viewed individually to see how the patient's health has changed; it can also be viewed as a part of a larger data set to understand how a population's health has changed, and how medical interventions can change health outcomes.
What is Health Information Management?
Health information management (HIM) is the practice of acquiring, analyzing, and protecting digital and traditional medical information vital to providing quality patient care. It is a combination of business, science, and information technology.
What Does A Health Information Professional Do?
Health information (HI) professionals are highly trained in the latest information management technology applications. They understand the workflow process in healthcare provider organizations, from large hospital systems to private physician practices, and are vital to the daily operations management of health information and electronic health records (EHRs). They ensure a patient's health information is complete, accurate, and protected.
HI professionals have an extraordinary impact. They are the link between clinicians, administrators, technology designers, operations, and information technology professionals.
These professionals affect the quality of patient information and patient care at every touch point ​in the healthcare delivery cycle. HI professionals work on the classification of diseases and treatments to ensure they are standardized for clinical, financial, and legal uses in healthcare. HI professionals care for patients by caring for their medical data and are responsible for the quality, integrity, security, and protection of patients' health information.
Why Choose a Career in Health Information?
Versatile Education
HI students acquire a versatile yet focused skillset incorporating clinical, information technology, leadership, and management skills. HI professionals use their knowledge of information technology and records management to form the link between clinicians, administrators, technology designers, and information technology professionals.
HI programs incorporate the disciplines of medicine, management, finance, information technology, and law into one curriculum. Because of this unique mixture, graduates can choose from a variety of work settings across an array of healthcare environments.
Dynamic Career Opportunities 
Constantly evolving regulations and technologies allow for lifelong learning and continued professional development. As healthcare advances, HI provides the patient data needed to successfully navigate the changes. As a result, HI professionals can expect to be in high demand as the health sector continues to expand.
Demand is on the rise at all levels of education and credentialing, and the US Bureau of Labor Statistics (BLS) cites medical records and health information technicians as one of the fastest growing occupations in the US, with an anticipated growth of 11 percent between 2018-2028.
·       The median annual salary for medical records and health information technicians was $40,350 in May 2018.
·       Salaries rise for health information administrators. In 2019, the median salary was $100,980 per year for healthcare administrators and the 2028 outlook anticipates an 18 percent increase in jobs for these individuals possessing a baccalaureate or master's in health information management.
·       Industries with an increased demand for health information professionals include healthcare organizations, academic institutions, consulting agencies, government agencies, and healthcare software companies.
·       HI practitioners continue to be critical component of the electronic health record (EHR) workforce.
A Health Information Career Is Right for You If You:
·       See yourself in a career that offers diverse opportunities.
·       Want to work in healthcare, but not directly with patients.
·       Have an aptitude for science and also like management, law, and computers.
·       Enjoy working with physicians, nurses, lawyers, administrators and executives.
·       Want a career where you can choose to work on your own, with others, or some of both.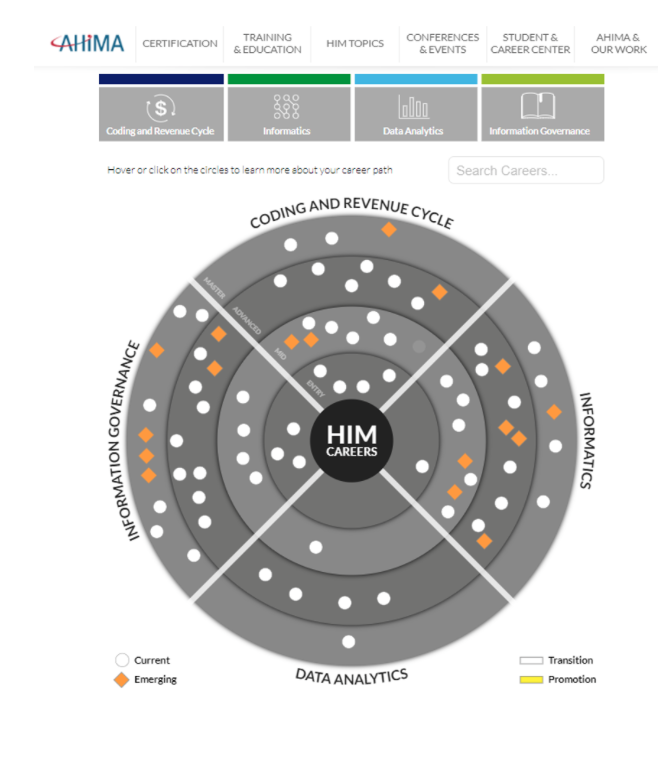 There are more than 80 job titles linked on the above interactive map (on the website) where interested persons can learn about the exciting career of becoming an HIM professional in many different job roles. 
Sources: https://www.ahima.org/certification-careers/certifications-overview/career-tools/career-pages/health-information-101/