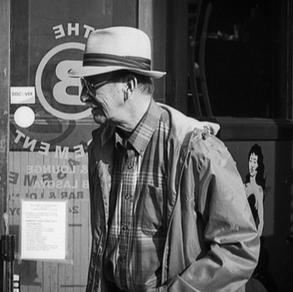 Hi, I'm Joe, Butch's friend. Butch and I met while living in the Phoenix Towers, a Veteran's assisted housing complex. It was all right living there, the best part was joking around with the housing manager, Olivia Johnson. She was good to Butch and me, and she didn't seem to be afraid of us. She is around veterans all the time and seems to get us. Nevertheless, we grew tired of all the petty rules so we decided to move on before we got kicked out. That is when Butch and I decided to move to the streets. We knew our military training had provided us all the skills we needed to survive and teaming up was certainly safer for both of us.
Most recently, we have been living under the interstate that is close to downtown. We move around a lot during the day; traveling light is important. We like to use milk crates to carry our belongings. They are lightweight, the perfect size to hold all of our things, and they serve as a good seat, too.
We have been living on the streets for almost five years without too many problems, until recently. A few months back, I got real sick and was in the hospital. Butch was really good to watch out for me. Most recently, Butch complained about his sock bothering him. He tried to get it off, but it was stuck to his foot. Once we were able to pull the sock off, Butch noticed some green pus where he lost his big toe. It didn't look good! I guess he has problems with his blood sugars. I don't know a lot about his health. I don't even know if he takes medicine. What I have noticed is that Butch isn't able to walk as much as he used to, and he stumbles, sometimes. I think his balance is off since he lost those toes. I try to look out for him as best I can, and I sometimes help him with meals. He just isn't able to do as much for himself. I am worried about him staying on the streets, as winter will be upon us in a few months.
I have thought about mentioning trying to get back into Veteran's housing, at least the winter months. That might be enough time for Butch's foot to heal; it would probably be good for me, as well. Then we can hit the streets again in the spring. I haven't mentioned this to Butch just yet. I don't want to make him mad or think I am abandoning him. I wouldn't do that; we are brothers. Not sure what we will do, I guess I will wait and see what they say at the Healthcare for Homeless Vets office and go from there.