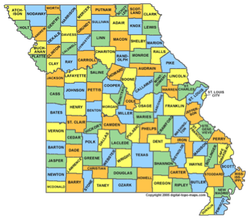 Mr. and Mrs. Williams live in Poplar Bluff, Missouri, a town of about 17,000 in southeastern Missouri.  Known as the "Bootheel" part of Missouri, Poplar Bluff is located in Butler County (population 43,000) just above the "instep" of the boot. 
Historically a cotton growing and farming area, the area's economy is now more diversified and in the past 5 years, PB has been linked via 4 lane road to the St. Louis area—about 2.5 hours north and Memphis TN, 2.5 hours south. The community is home to Three Rivers Community College which has several health professions training programs; the John J. Pershing Veterans Administration Hospital, a state Regional Center which provides assessment and consultative medical resources especially for developmentally disabled children and adults.  Additionally, two major physician clinic groups, numerous home health service agencies, dental providers, and other health care/related agencies serve PB residents. 
Currently two hospitals serve the area.  The older of the two hospitals–Poplar Bluff Regional Medical Center–provides a full range of primary, acute, and critical care services.  PBRMC's Senior Circle program was established to help older area residents pursue and active lifestyle, learn about health, and meet others. Senior Circle membership is $15 per year. Activities offered through the Senior Circle program include health lectures, membership perks, health services discounts, and a subscription to the PBRMC health and wellness publication.
---
A photo of the Williams' home
​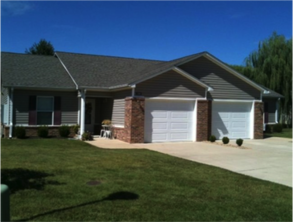 SENIOR CITIZEN CENTER:  Housing options in the area include low-cost housing through the local Poplar Bluff Housing Authority which is an independent agency that maintains 189 apartments for seniors and 286 family units at the Twin Towers, Hillcrest and Wilson housing centers.  There is also a recreation/ exercise area, dining area open to the public for lunch and a library with Internet access.  Its governing board is appointed by the City Council. Items furnished include stove, refrigerator, and trash service and laundry facilities. Activities include bingo, ceramics, pool/billiards room, and a library with computer and Internet access. The cafeteria at the Senior Citizen Center at Twin Towers is open to the public for lunch. No reservations are required. Cost is $3.00/person for anyone over 60 and their guest or $3.25 for others.
NORTHSIDE NUTRITION CENTER: Meals on Wheels delivers meals to homebound elderly and serves meals to the public Monday thru Friday. Those that choose to attend meals at the center are also encouraged to attend exercise programs, educational programs, holiday parties, and musical entertainment events put on at the Center.
HOME HEALTH SERVICES: As a nurse, Betty is concerned for the care Mr. Williams needs after he leaves the hospital, and if she will be able to provide the care from St. Louis. Betty has looked into home health services in Poplar Bluff and found that there are seven different agencies in the within Poplar Bluff, with so many options, Betty hasn't decided which service, if any, are right for Mr. Williams.
TRANSPORTATION:  Mr. and Mrs. Williams enjoy their Church community and are concerned that they may no longer be able to attend church. Mrs. Williams is upset that she will miss her ladies' group. Ty tried to help his grandparents and found SMTS, Inc. and non-emergency Medical Transportation provided by the Missouri Department of Social Services, but, Mr. Williams has not called these services and has Betty drive from St. Louis to take him to his medical appointments and take Mrs. Williams to Church.