About Ms. Morales
Listen to Julia tell her own story
Listen to her partner Lucy's story
Read Lucy's Niece Nora's story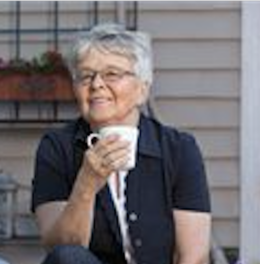 Julia Morales, who is 65 years of age, and her partner Lucy Grey, who is 73, have been together for more than 25 years. They are retired and since retirement they have spent their time traveling to some of their favorite places. Julia was diagnosed with lung cancer four years ago and has been having treatment through an oncology center in Columbia, MO, some 90 miles from her home. She has had chemotherapy and radiation but things are not getting any better and she has decided that she wants to stop her oncology treatment. Lucy is supportive of Julia's decision and feels she will be able to care for Julia in their home. Their family support system includes Julia's son, Neil, and Lucy's niece, Nora.
Julia was discharged to her home on September 22nd. On September 23rd she was visited in her home by a physical therapist and an occupational therapists. They were concerned about her pain and about Lucy's ability to care for Julia in their home. On September 24th Julia was admitted to the Northeast Regional Medical Center in Kirksville, MO, for pain management and evaluation. She has been there for 2 days and is getting ready to be discharged.
Ms. Morales's home town of La Plata, Missouri
Julia and Lucy currently live in the small town of La Plata, Missouri.   La Plata has a population of 1,366 and is located in Macon County.  La Plata is a rural farming community that has a strong historical connection with the railroad industry.  Today, La Plata still offers travel by rail with the local Amtrak station.  This old railroad town consists of a local grocery store, Casey's General Store, Dollar General, pharmacy, a small café, a physician's office, urgent care, and a nursing home.  During the summer months, there is a local farmer's market on the town square. 
Although La Plata is a small, rural community, there are opportunities for social and cultural activities such as an 18-hole golf course and local gardening club.   In Macon, Missouri, about a 20-minute drive to the south, there is a semi-professional theatre, two lakes for fishing, boating, and swimming. 
In addition to social/cultural resources, Macon offers a variety of medical services like home health, a local hospital, 911, and Hospice Compasses.
Ten miles north of La Plata is Kirksville, Missouri, home to a community college, technical school, and two universities.  Kirksville is also home to Northeast Regional Medical Center; an 115 bed facility.  There are a number of nursing homes, an assisted living facility, and two dementia care units.  Hospice services are also available through Hospice of Northeast Missouri.  There are a variety of medical clinics and physical and occupational therapy services.
George Rae Cancer Treatment Center located in Kirksville is part of the Missouri Cancer Associates, a premier cancer treatment center.  Missouri Cancer Associates is 78 miles south of La Plata located in Columbia, Missouri.  
Ellis Fischel Cancer Center another option for patients and families and is part of the University of Missouri Health Care System located in Columbia, MO. 
Siteman Cancer Center located at Barnes-Jewish Hospital and Washington University in St. Louis, Missouri, is 133 miles from La Plata.  The Siteman Cancer Center is an international leader in cancer treatment, research, and prevention.
Mayo Clinic, located in Rochester, Minnesota, specializing in the treatment and care of patients diagnosed with cancer.  Mayo Clinic is 305 miles, approximately a five and a half hour drive, from La Plata, Missouri.