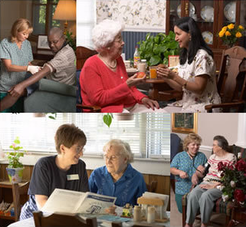 Cactus Home Health is a small, Medicare certified home health agency based in Tucson with a satellite office located near Tubac. They provide skilled nursing, occupational therapy, physical therapy, and speech therapy 
Case Notes
Occupational Therapy
Occupational Therapy Evaluation and POC
Cactus Home Care
Date: 8/03/11
S:  "It's good to be home"…."Good thing I didn't know what was going to happen to me when I left here last fall."
O:  Pt is a 38 yr old male who suffered a closed TBI due to an IED explosion in Afghanistan on  4/19/11 where he was working as a photojournalist .  According to medical records he was treated in Germany until June of 2011 then transported to the US for further care at Gila Hospital and then Gila Rehabilitation.  He suffered multiple injuries mainly to the L side of his body and a L skull fx and L femur fx which required an external fixator. He developed osteomyelitis at the pin sites and was treated with vancomycin.  Injuries included multiple tooth fx.    He was tx for pneumonia and also developed MRSA which has since resolved.  Pt developed seizures and remains on Dilantin for that.  He was max A for all ADL initially with poor attention span and difficulty tracking visually to the R.  Pts R hand was edematous and he lacked full use of his hand wihich interfered with ADL initially.  Now edema has decreased.  He is now full weight bearing. 
Current Status as evaluated today in pts home.
Bathing,  Pt will require use of tub transfer bench and need grab bars installed in order to advance bathing and insure safety due to seizures, impaired balance.  Tub transfer bench is safer than regular bath chair as pt will not need to step over the edge of the tub or shower in order to use it. 
Dressing.  Pt is I with UE dressing and contact guard during LE dressing due to intermittent balance problems.
Grooming.  Pt can shave with electric razor.  Regular razors are not recommended due to seizure disorder.  Pt sometimes neglects R side of face and has difficulty finding objects on the R side.  OTR advised wife to gradually replace many ADL objects with those that have more visual contrast.  OTR advised providing cues to look to the R and turn his head to the R in order to improved visual scanning.  Pt is I with toothbrush but not consistently self initiating this activity and continues to complain of mouth, jaw and tooth pain.  He is awaiting further dental work to be done soon.  OTR encouraged him to ask dentist if it is OK to use shower pick in order to improve dental hygiene. 
Feeding.  Pt is I with feeding according to wife, but pt says he still can't comfortably eat many foods that he used to enjoy.  He admits he has developed a fondness for popcicles but says he should probably switch to sugar free.  He feels they decrease mouth pain.  Wife says they sometimes use toothettes instead of a toothbrush because it is more comfortable.  OTR advised pt to check with the dentist about that due to potential to further dry the mouth. 
Leisure:  Pt produced a copy of the Modified Interest Checklist that he was asked to do by a previous OTR.  It reveals multiple interests and wife seems surprised by some of  them.  Pt indicates he feels guilty that he "almost made his children "fatherless" and now intends to spend more time with them.  He hopes to resume guitar lessons and possibly involve the kids as well.  He indicates he is anxious about his ability to work again and says that is probably reliant on his ability to get his driver's license.  He admits he still has not reported his seizures to the Motor Vehicle Department as he was advised to do. 
A:  The following issues will be addressed by OT
1.     Bathing safety risk due to unsteadiness, impaired R visual  attention, and lack of adaptive equipment, seizure disorder
2.     Dressing  contact guard LE
3.     Grooming, Min A due to visual tracking/ R side attention deficits
4.     Difficult mouth care due to pain, difficulty initiating and sustaining the activity, at risk of further prbs with decay.
P:  OT 3x wk  x 6 weeks for:
1.     Safety training and adaptive equipment recommendations to improve bathing safety.
2.     Adaptive dressing training
3.     Perceptual motor training and compensatory methods due to R visual prbs that interfere with hygiene and mouth care.
4.     Difficulty initiating and sustaining ADL routines necessary to maintain health./Impaired executive function. 
Will observe closely for signs of depression, anxiety, PTSD.  Will initiate use of daytimer to improve executive function.  Will encourage wife to allow him to make mistakes and discover some soulutions for himself rather than overly anticipating his needs. 
OT Goals:
1.     Shower with SBA and adaptive equipment
2.     I UE and LE dressing
3.     I mouth care daily using shower pick and compensatory visual scanning, "lighthouse method"
4.     Begin self scheduling routines via use of daytimer or cell phone. 
5.     Encourage driving eval in 2-3 months.
6.     Resume at least one pleasurable leisure activity 2-3x a week.
Physical Therapy
Physical Therapy
Cactus Home Health – Tubac, AZ
Initial evaluation 8/2/11
S: Pt sitting in wheelchair, external fixator left (L) lower extremity (LE). "I want to be able to walk in the house without my wife's assistance. I cannot get into the living room or the upstairs bedroom because I have a sunken living room and no handrail on my stairs. I wish I did not have to lean on my wife when walking up and down the stairs into my home. It is good to be home."
O: History: Patient discharged home from Acacia Rehabilitation Institute where he was an in-patient from 7/1/11-8/1/11. Previously he was in Gila Hospital 6/25/11-7/1/11, a  hospital in Germany 4/21/11-6/24/11 for treatment of multiple injuries from an IED in Afghanistan 4/19/11. Injuries included, closed head injury (CHI); left (L) temporal fracture; L frontal-temporal-occipital lobe punctate hemorrhages; L tympanic membrane (TM) rupture; multiple contusions and lacerations/abrasions of L scalp, face, ear, flank, leg, shoulder, chest and abdomen; contaminated, open L mid-shaft comminuted femur fracture; broken teeth; pulmonary contusion. Glasgow Coma Score of 10 initially and patient in medically-induced coma for transport to Germany. Intubated and on ventilator initially, and extubated 4/30/11. External fixator applied to L femur fracture 4/24/11; fracture remained open for healing; wound now closed. Developed pneumonia 4/27/11 (resolved); MRSA (resolved) and osteomyelitis (Vancomycin recently discontinued) L LE; seizures 5/15/11 (on Dilantin); c/o tinnitus. 
Social: Married, 3 children, worked as a photo journalist. Has sunken living room, bedroom is on the 2nd floor of home (12 stairs to 2nd floor), no handrail on stairs. Temporarily using guest bedroom and bathroom on main floor. Five steps into home and no handrail on stairs. Precautions: History of seizures; Weight bearing as tolerated (WBAT) L LE. 
Examination findings:
Cognition/language: WNL
Sensation: Light touch appears intact right (R) upper extremity (UE), R LE, L UE, and distally L LE.
Motor: 
PROM intact R LE, L UE, R UE except mild limitation R MCP flexion and edema MCPs; L LE: Hip flexion 5-90 degrees, knee flexion 5-80 degrees, ankle dorsiflexion 0 degrees. 
Tone: Mild increased flexor tone R UE and mild increased tone R plantarflexors, otherwise normal. 
Strength: R UE 4+/5, R LE 4+/5, L UE 5/5; L LE: 4+/5 hip flexion, 4/5 knee extension, 5/5 ankle dorsiflexion/plantarflexion. Pain 3/10 rating on PROM/AROM L knee. 
Balance: Independent sitting. Maintains standing with FWW, WBAT L LE with supervision.
Mobility: Supervision moving supine to sitting at edge of bed. Maintains sitting at edge independently. Standing pivot transfers to bed, chair, commode, transferring to R, with supervision. Independent indoor manual wheelchair level surfaces; modified independence for propelling wheelchair on minimum grade ramps. Ambulation with FWW 500' level surfaces with supervision, WBAT L LE. Supervision up and down one 6" step with FWW. Minimal to moderate arm-hold assistance for up and down 5 steps in and out of home.
A: Major impairments and activity limitations include:
1)    R UE and LE weakness
2)    L LE limited PROM, strength and pain due to femur fracture
3)    Impaired balance in walking
4)    Supervision for standing pivot transfers to bed, chair, commode.
5)    Supervision for ambulation on level surfaces and up and down one step with FWW, WBAT L LE.
6)    Minimal to moderate assistance up and down stairs without assistive devices or handrail.
Goals:
1)    Increase strength R UE and LE to 5/5 for increased use in ADLs.
2)    Increase PROM R knee flexion to 90 degrees flexion, R hip and knee extension to neutral (0 degrees); R ankle dorsiflexion to 5 degrees.
3)    Independent bed mobility.
4)    Standing pivot transfers to bed, chair, commode with modified independence, WBAT L LE.
5)    Independence manual wheelchair propulsion all surfaces.
6)    Ambulation with FWW within the house on level surfaces and 6" step with modified independence, WBAT L LE.
7)    Ambulation with FWW outdoors 1500' with supervision, WBAT L LE.
8)    Ascend and descend 12 steps with single point cane and supervision.
9)    Patient and wife educated in home modifications to enable independence with stair climbing to 2nd floor and in and out of house.
Plan: Therapeutic exercise and mobility training 2x/week for 6 weeks. Make recommendations for home modifications. Consult orthopedic physician for plans on removal of external fixator.
 
Nursing
Admission Report Nursing - Cactus Home Health
Jones, Charles Robert (Chip)  MRN:  349213
Date of Report:  Aug 3, 2011
38 year old Male
Admitting physician:  Dr. Jones
Code status:  Full Code
Allergies: NKA
Weight:    106.8kg/ 235lbs at time of injury      Height: 6' / 72"
            Now:  90.90kg/200 lbs
Brief History of hospital course: Riding in Humvee on photo shoot with Marine Corp, struck by improvised explosive device (IED).  Sustained serious injuries to left side of body including arm, leg, chest, and head/face.  Spent 2 months in Landstuhl Regional Medical center, then spent a week in Gila Hospital in Tucson.  Patient spent one month in Acacia Rehabilitation Institute prior to being discharged home with home health.
Current Medical Issues:  seizure disorder, depression, perforated left tympanic membrane, extremity contracture and restrictions, status post external fixation for an open, infected left femoral fracture with osteomyelitis, status post multiple lacerations and abrasions-healed, status left temporal fracture-healed.
Family/Social Concerns: Wife, Nancy stay at home mom, and 3 children under 10 living in Tubac, Arizona His parents live in Tucson, and wife's parents live in Tubac. Patient is a photo journalist.
Body System

Neuro:
Alert and Oriented x3/Slower than normal response
Pupils- 3mm bilaterally
GCS- 15
Neuro checks- negative
No left temporal swelling noted
Fall assessment- at risk
Restraints- none
Strength- Left arm weak
Left leg weak  Right arm normal strength, Left arm normal strength   
ROM- Normal right side, decrease on left side
Sensation-normal
Pain:  5/10    

Intervention

Explain procedures and care items slowly for understanding

MS Contin 30mg Q12 hours scheduled
Percocet 5/325mg 2 tablets Q4 hrs 

Response

Patient able to follow commands.
Respiratory:
Upper anterior lungs-clear and equal
Lower anterior lungs-clear diminished
Upper posterior lungs-clear and equal
Lower posterior lungs-clear diminished
Lung expansion-equal bilaterally
Breathing pattern-equal
Sao2- 98% on room air    
  
Patient compliant with instructions.  Lungs sound clearer.    
Cardiac:
Heart Rhythm-Regular
Heart Rate-86
Cap Refill-  >3 all extremities
Turgor - good
Radial pulses-strong right, slightly diminished on left.
Dorsalis pedis pulses-strong right, slightly diminished on left.

Continue to monitor pulses for changes

 
GI/GU:
Bowel Sounds-active
Abdomen-soft, rounded, non tender
Urine-clear yellow
Stool- Last BM – in hospital
Diet-  Regular
Feedings-N/A    

Monitor BM status    

Explained to wife to keep track of BM's    
Integumentary
Mouth: moist/pink
Color: light pink undertones
Texture: smooth
Incisions: Left leg incisions
Dressings: Left leg dressing
Scars: multiple on left side
Ears: Patient complains of deafness in left ear.

Dry Dressing changes 3 times per week with adaptic and kerlex. 
Apply bacitracin to scars when necessary
Speak towards patient right side. 

Wound on left leg are healing

Patient is able to hear and understand
Lines:
Central-PICC in RUE double lumen 
10ml Flush per line    
Patent
Both lines patient and positive blood return. 
Vitals: 
 Vitals HR 86  BP 130/70 Temp 98.6 RR 16 SAT 98% on room air    
  
 
Functional Health Patterns
Health Perception/Health Management    
Subjective:  Patient stated "I'm worried that my wife will not be able to handle me along with the children.  I'm not used to being sick"
Objective:  Patient seems sad about his current situation and gets emotional when speaking about his situation with his health and family. 
Values and Beliefs 
Subjective:  Patient states "My family is very important to me and that is what keeps me going"
Objective:  Patient smiles when he speaks about his family and watching his children grow up.
Cognitive/Perceptual 
Subjective: Patient states "I normally learn  by hearing, but since my hearing is bad, I have taken to seeing to learn"
Objective:  Patient learns by seeing how to do things and questions things over and over due to his hearing loss.
   
Nutrition/Metabolic    
Subjective:  Patient states "I'm glad to be home and eating my wife's cooking.  I am able to eat more now that I am at home".
Objective:  Patient is eating and drinking normal amounts to maintain good nutritional status.
 
Activity / Exercise
Subjective:  Patient states "Although it makes me very tired, I enjoy working with physical therapy and am feeling stronger by the day". 
Objective:  Although tired patient is willing to work with physical therapy.    
Elimination 
Subjective:  Patient states "I feel that my elimination was normal prior to the accident but now I have to take medications to have a regular pattern"
Objective:  Patient is given medication for constipation on a regular basis and complains of constipation often. 
Sleep/Rest 
Subjective:  Patient stated "Since coming home I still feel like I sleep a lot but am able to spend quality time with my family. 
Objective:  Patient stays awake during the day and sleeps 10-12 per night.   
Role/Relationship 
Subjective:  Patient stated "It is hard to see my wife be in charge of everything as that used to be my job.  I guess it will be again someday.
Objective:  Patient seems to be accepting of this role in the statements he makes. 
Coping/Stress 
Subjective:  Patient states "I am stressed watching my wife try to deal with all of this"
Objective:  Patient seems stressed when talking about current situation. 
Self-perception/Self concept 
Subjective: Patient states "I feel like I am out of control of my personal life and my family life since the accident.  Prior to that I was very in control of my emotions"
Objective:  Patient sometimes gets frustrated when trying to do things for himself.
Sexuality/Reproduction 
Subjective:  Patient stated "I do not feel comfortable discussing this subject"
Objective:  Patient blushed when asked the questions.